Broken Civilization is in Alpha stage of its development. You can contribute to the project by signin to get the Alpha.
GALLERY
Broken Civilization is under development, and we ask your help to spread the world and contribute to the game development.
THE GAME
The outbreak can no longer be contained by conventional means. You have been asked to intervene. Command your soldiers effectively to curb the disease and save London.
You will control squadrons of elite soldiers, as you order them to make their way across complex building architecture, searching and rescuing as many civilians as possible. You will fight against criminals who are taking advantage of the situation. Be careful, however, as not even the best-trained experts are prepared for a stressful infection outbreak. Your soldiers have feelings and emotions and may crack under the pressure if you push them too far. Equip them as best as you can, and make sure to create squads with good chemistry and loyal friendship, in order to be most effective in your task of ridding London of this plague.
Broken Civilization - It´s not too late to save London
The game is under development and you can help in many ways:
Get the latest news and access to the alpha release
Game Development Blog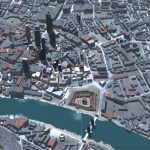 Broken Civilization is played in an area of the city of London. And one of the key features of the ...
Read More